Webcraft is an Agenda of the Dauntain.
Overview
Edit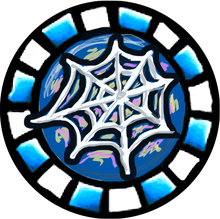 Webcraft is one of the Weaver's dirtiest tricks, an Agenda of the Dauntain that directly calls upon her power to order and conform. Only the Dauntain practice this or any Agenda; if any Kithain attempts to learn it, the amount of Banality that having it opens them up to will quickly cause their condition to deteriorate.
Although the Agenda of Webcraft was originally presented in The Autumn People, its actual game mechanics were accidentally omitted from that book. Errata for The Autumn People, including the mechanics of Webcraft, are presented in full in the Changeling Players Guide.
References
Edit
CTD. The Autumn People, p. 82.
CTD. Changeling Players Guide, p. 187.
Community content is available under
CC-BY-SA
unless otherwise noted.