(7 intermediate revisions by one other user not shown)
Line 44:
Line 44:
 
 
 

<p class="MsoNormal">Obrigado Doug.ferr. Eu posso fazer a edição. [[User:Small Earth Cat|Small Earth Cat]] ([[User talk:Small Earth Cat|talk]]) 20:41, May 24, 2020 (UTC)</p>

 

<p class="MsoNormal">Obrigado Doug.ferr. Eu posso fazer a edição. [[User:Small Earth Cat|Small Earth Cat]] ([[User talk:Small Earth Cat|talk]]) 20:41, May 24, 2020 (UTC)</p>

 
+
 
+

== Re: Date Artist Credits ==

 
+
 
+

Hello. I am not sure what you mean. Which page are the dates wrong on? I have seen many credits pages with the newer dates on top, and older dates on bottom, so I started writing it that way. Does the wiki guideline say to put older dates on top instead?<br />

 
+

Olá. Eu não estou certo do que você quer dizer. Em que página as datas estão erradas? Já vi muitas páginas de créditos com as datas mais recentes no topo e as datas mais antigas na parte inferior, então comecei a escrever dessa maneira. A diretriz do wiki diz para colocar datas mais antigas no topo? [[User:Small Earth Cat|Small Earth Cat]] ([[User talk:Small Earth Cat|talk]]) 01:18, June 24, 2020 (UTC)

 
+
 
+
 
+

== Re: Re: Date Artist Credits ==

 
+

some pages are mixed, in others it is in decreasing form, it was increasing, but if it is going to be decreasing, tell me that we only move in one format ;) [[User:Doug.ferr|Doug.ferr]] ([[User talk:Doug.ferr|talk]]) 01:21, June 24, 2020 (UTC)

 
+
 
+

:OK... yes, I want to make them all the same, too. Which way should it be? I will do them in the way you think it should be. [[User:Small Earth Cat|Small Earth Cat]] ([[User talk:Small Earth Cat|talk]]) 01:29, June 24, 2020 (UTC)

 
+
 
+
 
+

you said that you saw the majority decreasing, shall we decrease then? Since there is a pattern, we follow it, I thought it was a mistake, what do you think? [[User:Doug.ferr|Doug.ferr]] ([[User talk:Doug.ferr|talk]]) 01:47, June 24, 2020 (UTC)

 
+

:I saw some decreasing. But I do not know if that is the majority or a minority. You are more familiar with the Wiki than me. I'll do it how you want it. [[User:Small Earth Cat|Small Earth Cat]] ([[User talk:Small Earth Cat|talk]]) 03:58, June 24, 2020 (UTC)

 
+
 
+

I saw a large part decreasing, let's keep this pattern for now, which is just to worry about the disorganized ones, if you find a better pattern tell me that we changed together. [[User:Doug.ferr|Doug.ferr]] ([[User talk:Doug.ferr|talk]]) 11:31, June 24, 2020 (UTC)

 
+
 
+

== Re: the vandal ==

 
+
 
+

No problem! Always happy to help, especially with something irritating like that guy. Have to say, the "undo revision" button got a bit of a workout. [[User:Saslen|Saslen]] ([[User talk:Saslen|talk]]) 18:56, 29 January 2021 (UTC)
---
Latest revision as of 18:56, 29 January 2021
Re:
Pelo que eu pude perceber, o padrão dos artigos continua o mesmo. Ele apenas criou uma nova categoria que é melhor do que a categoria anterior. De qualquer forma, enviei uma mensagem ao Bro David a respeito das edições que ele vem fazendo nos artigos relacionados aos totens... acontece que ele é novo aqui na Wiki e tem costume de fazer muitas micro edições (o que atrapalha bastante na hora de verificar o conteúdo publicado por ele). Mas, se você encontrar alguma informação não-oficial adicionada aos artigos, poderá requisitar referências imediatamente ou até mesmo remover as informações caso não tiverem respaldo nos livros. Russel Hammond (talk) 20:52, June 24, 2018 (UTC)
Sobre a nomeação de novos artigos
Um conselho: quando você for criar novos artigos, ou adicionar links para artigos que ainda não existem mas que podem ser criados futuramente, eu sugiro que você pense com cuidado sobre a denominação que deverá usar.

Caso você avalie que o nome do artigo é muito comum, e que provavelmente poderá ser usado por outro cenário de RPG da White Wolf, eu sugiro sempre identificar a procedência do artigo usando uma etiqueta - no caso de ser um artigo do cenário Werewolf: The Apocalypse, eu sugiro adicionar uma etiqueta "(WTA)" ao lado do nome do artigo, caso seja um artigo de Vampire: The Masquerade, usamos o "(VTM)" como etiqueta, e assim por diante. Observe o histórico do artigo Hakahe e veja como eu editei a palavra "Vulcan", para ter um exemplo prático do que estou falando.

É claro que, caso você avalie que o nome do artigo é muito incomum e que dificilmente será usado por outro cenário, a etiqueta é totalmente dispensável. Russel Hammond (talk) 19:56, July 5, 2018 (UTC)
Re: Símbolos & cWOD
Com toda certeza o Ian não voltará aqui para adequar os artigos para o novo formato. Ele usou um programa de edição em massa para fazer toda essa confusão, e portanto teremos que renomear todos os links quebrados (ou redirecioná-los) de forma manual. Quanto à página dos símbolos, se ela foi bloqueada, não há muito mais o que se possa fazer. Russel Hammond (talk) 04:09, August 2, 2018 (UTC)
Re: Parabéns
Obrigado. A partir de agora se tiver alguma dúvida ou alguma sugestão, basta falar comigo que estarei atento. Russel Hammond (talk) 07:30, August 12, 2018 (UTC)
Formatação dos artigos
Peço que você observe as alterações que estou fazendo nos novos artigos que você vem criando, para que formate-os seguindo este exemplo. As alterações são bem simples e representam o padrão vigente. Nós não costumamos implicar com cópias diretas de algumas partes dos livros (desde que não sejam excessivas), mas o mero CTRL C + CTRL V é algo que destoa da tradição de editores que vem trabalhando aqui desde o início da Wiki. Russel Hammond (talk) 20:28, July 17, 2019 (UTC)
re:
Sim, eu já havia imaginado que essa era a explicação pro seu comportamento. Nesse caso, outra dica: essa wiki também existe em português - algum tempo atrás eu intermediei a ligação de uma tradutora que adotou o nick "Garras da Lua" com a administração e o resultado foi o início da versão pt-br do site. O link pra versão brasileira está na página inicial aqui desta wiki. Russel Hammond (talk) 03:01, July 30, 2019 (UTC)
Re: Nome do artigo
Obrigado por avisar. O artigo com nome equivocado foi deletado. Russel Hammond (talk) 14:52, February 20, 2020 (UTC)
Boa noite, poderia por favor apagar o artigo: Betânia, criei com a derivação em português https://whitewolf.fandom.com/wiki/Bet%C3%A2nia
Obrigado!
Doug.ferr (talk) 04:09, March 21, 2020 (UTC)
Sal-Afsan and Joy-Hunter pictures
Can we please talk about the Sal-Afsan and Joy-Hunter artworks? You reverted my edit and I don't know why.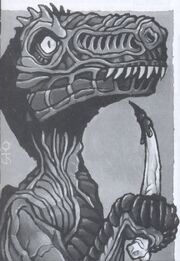 File 6 is Joy-Hunter. She has a bloody knife, and is not blind.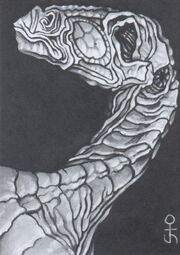 File 5 is Sal-Afsan. He was blinded and has no eyes.

They are on the same page of the book, but I think it's obvious which is which. Please allow me to correct the articles.Small Earth Cat (talk) 22:38, May 23, 2020 (UTC)
Of course, sorry, my mistake because of the order of the images Doug.ferr (talk) 22:46, May 23, 2020 (UTC)
Can you change or do i? Doug.ferr (talk) 22:48, May 23, 2020 (UTC)
Thank you Doug.ferr. I can make the edit.
Obrigado Doug.ferr. Eu posso fazer a edição. Small Earth Cat (talk) 20:41, May 24, 2020 (UTC)
Re: Date Artist Credits
Hello. I am not sure what you mean. Which page are the dates wrong on? I have seen many credits pages with the newer dates on top, and older dates on bottom, so I started writing it that way. Does the wiki guideline say to put older dates on top instead?
Olá. Eu não estou certo do que você quer dizer. Em que página as datas estão erradas? Já vi muitas páginas de créditos com as datas mais recentes no topo e as datas mais antigas na parte inferior, então comecei a escrever dessa maneira. A diretriz do wiki diz para colocar datas mais antigas no topo? Small Earth Cat (talk) 01:18, June 24, 2020 (UTC)
Re: Re: Date Artist Credits
some pages are mixed, in others it is in decreasing form, it was increasing, but if it is going to be decreasing, tell me that we only move in one format ;) Doug.ferr (talk) 01:21, June 24, 2020 (UTC)

you said that you saw the majority decreasing, shall we decrease then? Since there is a pattern, we follow it, I thought it was a mistake, what do you think? Doug.ferr (talk) 01:47, June 24, 2020 (UTC)
I saw a large part decreasing, let's keep this pattern for now, which is just to worry about the disorganized ones, if you find a better pattern tell me that we changed together. Doug.ferr (talk) 11:31, June 24, 2020 (UTC)
Re: the vandal
No problem! Always happy to help, especially with something irritating like that guy. Have to say, the "undo revision" button got a bit of a workout. Saslen (talk) 18:56, 29 January 2021 (UTC)
Community content is available under
CC-BY-SA
unless otherwise noted.