For the Chronicles of Darkness sourcebook, see World of Darkness: Asylum.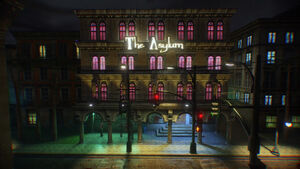 The Asylum began as a Santa Monica-based nightclub, owned by vampire businesswoman Therese Voerman and her sister Jeanette Voerman. The club was one of their several business ventures within Santa Monica, and their most successful. While Therese ran the financial aspect of things, Jeanette did all the promotional work by supplying loud music and attracting curious clientèle.[1]
Overview
The main floor of the club boasts a live music stage at the far end, with a dance floor in front, and a bar area closer to the door, staffed by longtime bartender Cal. The left and right sides have a staircase leading up to an upper-level balcony area, which contains a number of tables, and overlooks the dance floor.
The first floor also has an elevator which leads to the second floor of the club, where the Voerman sisters' chambers are located. Aside from a small vestibule at the top of the elevator, the bulk of the second floor is dedicated to a single room. A room divider separates two halves of the room, with a more properly sedate half dedicated to Therese's office, and a pink heart-shaped bed and vanity on Jeanette's side. An attached bathroom has a similar heart-shaped bathtub. However, the most striking aspect of the room, found on the wall midway between the two halves, is the huge portrait of a tall, imposing man with two small girls: a painting of a young Therese, Jeanette, and their father.
Expansion
At some point between October 2004 and 2005, the club reopened as "The New Asylum."[2], but as the business expanded, they returned to the original name.
By 2018, the business had expanded, with franchises expanding across America, Asia, and Europe. Despite this, the sisters remained close to home, with Therese continuing to manage the original Santa Monica location, and Jeanette managing the Hollywood venue.[3] In terms of Kindred clubs, its only rival is the Succubus Club.
One Asylum location is in Las Vegas, built out of a renovated chapel, which the Voermans occasionally manage, as it's close to LA.[4]
Vampire: The Masquerade - Bloodlines
In the nightclub you can find two blood dolls that can be seduced and used to feed upon; one is by the bar, and the other, Danielle, is on the upstairs balcony. The ghoul Knox Harrington can be found here after talking to him outside the Santa Monica Medical Clinic; here he will ask you to 'save him from this Asian vampire'.
NPCs
Quests
Explosive Beginning

The Ghost that Haunts at Midnight

Spiritual Release

Slashterpiece

Bad Blood

Sibling Rivalry
Background Information
Gallery
References