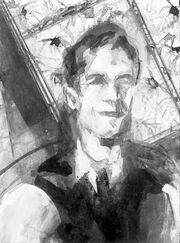 There is beauty in structure and order, and Ronald Clement is the best example of this edict. Clement is one of the top architects in the firm of Hodgkins, Carroll, and Farris, a firm that has become one of the leading designers of high-rise and superstructure buildings in the world. Based out of Chicago, this firm has designed some of the most prominent new features of the modern skyline, including the recent midwest headquarters for Developmental Neogenetics Amalgamated, a striking building that covers over two acres of land.
More than just a successful businessman, Clement is a faithful servant of Ananasa. His architectural motifs help to strengthen the Ananasi's hold in the world, and are always designed with elements that allow special advantages to those that have access to eight-legged forms. These buildings are sanctuaries for the Ananasi, with special hollows and ledges that appear to be nothing more than ornamental, but provide a safe haven for spiderlings that are seeking refuge. More than that, these buildings are often designed to give the Ananasi an advantage in combat, giving vantage points to those that can more nimbly maneuver in his weblike designs.
Clement appears to be a well-dressed, handsome man in his early forties. He has, in fact, been nominated for the most eligible bachelors of Chicago list several times, but has always refused to appear in any magazine. To his way of thinking, he is constantly at war. He is planning strategy and formulating plans at all times, and each of his creations is designed to give the Ananasi an advantage in what he considers an inevitable war for domination of the globe.
References
Edit
Community content is available under
CC-BY-SA
unless otherwise noted.