Pu'uhonua is a refuge for Kapu-breakers among the Menehune.
Overview
Edit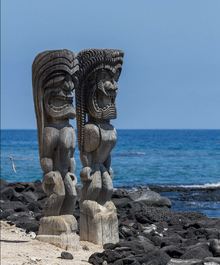 On the South Kona Coast of the Big Island of Hawaii is Pu'uhonua O Honaunau National Park. In ancient times, this was a place of refuge for kapu-breakers… if they could get past the stone wall before their pursuers caught them. If running from the north, the taboo-breaker had to approach the refuge from the sea through shark-infested waters. If coming from the south, a land entry could be made.
Within the refuge is the Hale of Keawe, the he'iau of Keawe. Built to honor the great chief Keawe, it is the resting place of his bones (along with the bones of some successive chiefs). These bones carry much mana. The temple is guarded by carved ki'i, images of the gods.
To the Menehune
Edit
Menehune who transgress the laws of their people can escape punishment by running to Pu'uhonua. After spending a week of spiritual reflection, they are allowed to leave absolved of guilt. While the punishment for transgression is never death among them, it may involve tasks that are unpleasant to them.
No Kahuna lives in Pu'uhonua now, so any menehune is on their own once here. However, the he'iau does hold some Glamour (thanks to the bones) and can provide protection against the Banality of the slovenly tourists who come here and make stupid cracks about breaking taboos. The repentant menehune are believed by visitors to be native beach bums. The rangers usually put up with them for a while, believing them to be natives practicing traditional religion.
See also Kapu'akua
References
Edit
CTD. Immortal Eyes: Shadows on the Hill, pp. 34-35.
Community content is available under
CC-BY-SA
unless otherwise noted.