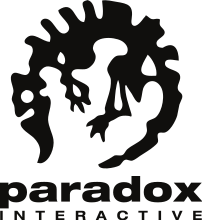 Paradox Interactive is a Swedish video game developer best known for historical strategy games such as Crusader Kings and Europa Universalis. In November 2015, Paradox purchased White Wolf and its associated intellectual properties (World of Darkness, Exalted, et al.) from CCP hf. Paradox was originally the video game development arm of media holding company Paradox Entertainment, but later split off from its parent company.
Paradox Entertainment was itself born out of the ashes of the company Target Games, who published the iconic Swedish role-playing games Drakar och Demoner, Kult and Mutant in the 1980s and 1990s. When Target Games declared bankruptcy in 1999, several of its former executives founded Paradox Entertainment, which in turn acquired the bankrupt Target's intellectual properties. In 2003, after Paradox Entertainment acquired the copyrights to Robert E. Howard's works (most notably Conan the Barbarian), the company's former video game development division was spun off into the wholly independent company Paradox Interactive.
Community content is available under
CC-BY-SA
unless otherwise noted.