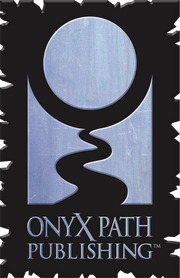 Onyx Path Publishing is a new company started by Richard Thomas in January 2012, currently licensed by Paradox Interactive to develop and publish tabletop RPG products for the Chronicles of Darkness ("New World of Darkness"), Classic World of Darkness and Exalted, as well as developing Onyx Path-owned properties such as Scion, the Trinity Universe and Pugmire.
History
Following Black Wednesday in October 2011, CCP wasn't really in a good place to publish anymore. After long discussions on how to best support the RPG properties, it was decided that Rich would start his own company, Onyx Path Productions, and this company would publish the White Wolf RPG properties on CCP's behalf.
Rich created the company in January 2012, and immediately took up production of White Wolf properties. The transition was fairly seamless, although negotiations caused some stalling with the timing of releases. The first Onyx Path release (the WTF/WTA: Werewolf Translation Guide


) came out in April 2012, bearing the first Onyx Path brand.
In approximately March 2012, Rich got confirmation that he had acquired the full rights to Scion and the Trinity Universe. Also in that month, the COM: Cavaliers of Mars Quickstart

was released. Cavaliers of Mars is a project by VTR developer Rose Bailey, and the first of Onyx Path's creator-owned projects.
The exact nature of OPP was relatively obscure until the official announcement was made at GenCon in August 2012.
Gallery
External links