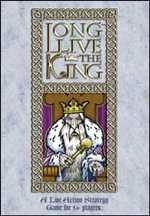 Long Live the King is a live-action strategy game with board game elements that was published by White Wolf on November 28, 2006. Based on an original design by Stewart Wieck and Mark Rein•Hagen, the game saw print more than a decade after it was originally conceived following further development by Wieck, Dale Cook, and John Dashler.
In Long Live the King, players take on the roles of a dying king's medieval court as they each scheme their way into power in hopes of earning the king's crown for themselves. The game is designed for eight players, one of whom takes on the role of the King, who serves as the neutral game master; the rest are assigned the roles of the Ambassador, Archbishop, Baron, Queen, Royal Bastard, Steward and Treasurer, each of whom has distinct statistics and functions that let them influence the game's flow and the players' politicking. More players can also participate, although they take on minor supporting roles; for example, the king could delegate the function of the game master to a "court advisor".
After CCP hf purchased White Wolf in 2009, Stewart Wieck's new game company Nocturnal Media acquired the rights to (among other games) Long Live the King, and released the game's rulebook digitally via DriveThruRPG in 2010.
References
Edit
Community content is available under
CC-BY-SA
unless otherwise noted.