Kito Sullivan is a Hong Kong mage. Owner and operator of Childplay Games, a small company that is designed to introduce young children to the joys of the virtual world, he is also a member of the Virtual Adepts. His company headquarters is located on the outskirts of Kowloon, and Kito generally can be found there or at his cottage on Lantau Island.
Biography
Edit
Kito Sullivan grew up in a nontraditional home. Coming from Los Angeles, his father was Irish and his mother was from Kenya. They met while both studied at UCLA. Kito's hyperactivity and great intelligence prompted his parents to enroll him in a private school that specialized in alternative methods of education. This unconventional style fostered rapid progress and by the time Kito was 12 he was doing college level math and science, particularly computer science.
Kito spent many hours surfing the web and playing video games. They were a ready made babysitter. Since his parents did not limit his access to the Web and found his way into the Digital Web. At the age of 13, Kito Sullivan Awakened and he joined the ranks of the Virtual Adepts.
It was Kito's mentor, Handle Buddha, that encouraged him to look to Hong Kong and to take advantage of the technological discoveries going on in Asia. Plus, he could keep an eye on the activities of the Technocracy there. Their activities in China and Japan needed a close monitoring and Kito had the distinct qualifications.
Kito followed his mentor's advice and enrolled in Hong Kong University earning his Undergraduate in computer science in two years. He launched his own small company, Childplay Games, in the hopes of Awakening any potential mages while they interacted with his product.
Kito has been able to remain in Hong Kong despite the change over. Though unbeknownst to him he has attracted the attention of the Goblin Spider Qian Shi and the Iteration X member Pavithra Adri.
Appearance
Edit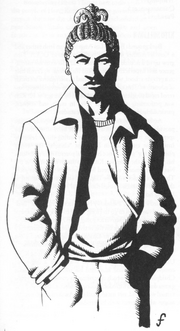 Kito's physical appearance combines the best features of his Irish-African background. He is tall and slim, with green eyes, dark skin and strong, angular features. His hairstyle changes on a whim, from red-dyed spikes to traditional African braiding.
Character Sheet
Edit
References
Edit
Community content is available under
CC-BY-SA
unless otherwise noted.