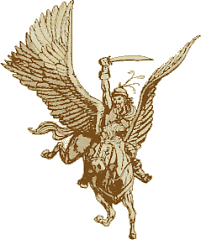 The Official Judges Guild is back. We are now partnered with Necromancer Games and we will shortly be bringing to you updated versions of the Wilderlands campaign and the City State of the Invincible Overlord. I invite all of the loyal Judges Guild fans and new fans alike to visit us at the Necromancer Games message boards to discuss everything Judges Guild!
Judge's Guild was one of the earliest publishers of pen-and-paper role-playing game content. It was founded in 1978 by Bob Bledsaw and Bill Owen. From 2002 to 2006 they partnered with Necromancer Games to produce updated versions of some of their classic supplements, which were published through White Wolf under the Sword and Sorcery imprint.
List of Judges Guild books
This article is a

stub

. You can help WWWiki by

fixing it

.