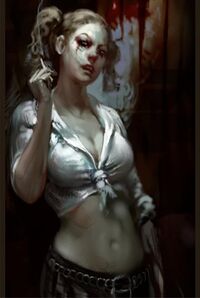 Jeanette Voerman is a character from Vampire: The Masquerade - Bloodlines and the "sister" of Therese Voerman. She is voiced by Grey DeLisle.
Jeanette is an extremely friendly Malkavian, loyal to the Anarchs, and she flirts with the main character nearly every chance she gets. Jeanette is an important character during the game time spent in Santa Monica. After the Ocean House Hotel mission Jeanette asks the main character to go to the Gallery Noir to slash some paintings and steal the money in the cash box. If the mission is accepted, there will be a slight difficulty with the paintings. However, if the main character does not accept the mission, Jeanette will be displeased with them for a little bit; no matter what you chose to do will end in the Tourette Incident.
Quests
Trivia
Early in the game Mercurio claims that he has heard rumours that Jeanette engages in actual sexual intercourse, despite also hearing that Kindred "can't... or don't... do that". If the player chooses Jeanette's side during the Tourette Incident, this opens the possibility to sleep with Jeanette in the latter stages of the game.