Authors:
Beth Fischi, Jennifer Hartshorn, Deena McKinney, Wayne Peacock
Developed by:
Ian Lemke
Additional Development by:
Phil Brucato
Edited by:
Cary Goff
Art Director:
Aileen E. Miles
Art:
Stuart Beel, Lee Fields, Jeff Holt, Mark Jackson, Clint Langley, Rick O'Brien, James Stowe, Scott Theisen, Drew Tucker, Valerie Valusek
Map by:
Eric Hotz
Front Cover Art:
Adam Rex
Cover Design:
Aileen E. Miles
Border Artby:
Henry Higgenbotham
Layout and Typesetting:
Aileen E. Miles & Kathleen Ryan
Authors' Special Thanks:
From Deena McKinney:

To Tom Deitz, Gilbert Head and Forrest Marchinton, for resources and a whole lot more.

To Darrell Autry and Wayne Peacock, for constant comments and patience.

Diolch yn fawr to you all!

From Beth Fischi:

Phil Masters, James Wallis, Marc Gascoigne and Graeme Davis for the British perspective. Also, thanks to Robert the Bruce, without whom the world would be bereft of James Wallis and, by extension, Hogshead Publishing.

From Wayne Peacock: Thanks to my parents, Gertie and Walter Peacock, who took me to Scotland. Special thanks go to Kim Peacock, for constant love and inspiration. Thanks also to the three women who made my writing this possible: Deena McKinney, Nicky Rea and Jackie Cassada. Finally, a salute to Clan Maxwell from a member of one of its septs, "Reviresco!"

Publisher:
White Wolf Publishing, Inc.
Imprint:
White Wolf Game Studio
Published:
1997
Pages:
Year:
1997
Publication #:
Reference #:
Price:
Isle of the Mighty
is a sourcesbook for
Changeling: The Dreaming
and
Mage: The Ascension
covering the history of magic in Great Britain.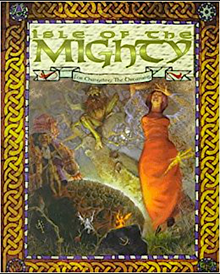 At last, discover the land of ancient magic - Britannia! Here is a place steeped in ancient magick and legends of faerie. Hidden powers, some older than the land itself, exist alongside humankind and have mysterious arcane agendas. Beneath the very nose of mortal society, age-old battles are waged across the kingdom for control of key places of power. Since the return of the sidhe, the fires of battle have burned like never before as both changelings and mages become involved in the struggle for Britannia's might.
This long-awaited Changeling: The Dreaming supplement provides vital information on the changelings and mages of Great Britain. You are finally able to explore the homeland of fae legends and discover the truths behind British covens and chantries. Isle of the Mighty exposes the vital link between mages and changelings and explains how they have been bound since the beginning of time.
Highlights: A complete World of Darkness sourcebook for Great Britain, including: England, Wales and Scotland. A new kith, the Gillhe Dhu, also known as "the greenmen," the protectors of the forests. Explores the politics and history of the fae and mages of Great Britain, from the ancient arrival of the Wyck and the Tuatha de Danaan to the modern day.
Introduction: Lladona's Saga
Edit
Book One: England
Edit
Chapter One: Talecraft One - History of England
Edit
Chapter Two: The Kingdoms of Albion
Edit
Chapter Three: The People of Albion
Edit
Book Two: Scotland
Edit
Chapter Four: Talecraft Two - History of Scotland
Edit
Chapter Five: Caledonia, Land of Hope and Betrayal
Edit
Chapter Six: Lads and Lasses
Edit
Book Three: Wales
Edit
Chapter Seven: Talecraft Three - History of Cymru
Edit
Chapter Eight: Cymru, Land of Song and Companions
Edit
Chapter Nine: Y Cymri, The People
Edit
Appendix
Edit
Background Information
Edit
Memorable Quotes
Edit
Characters
Edit
References
Edit
Community content is available under
CC-BY-SA
unless otherwise noted.