The Inua are one of the Families of the Nunnehi, the fae native to North America.
Inuas were born of the dreams of the northernmost natives, the Inuit and Aleuts. These tribes believed in spiritual beings who lived inside all things whether animate or inanimate. Assigned the role of aides to shamans, inuas were important spirit helpers who assisted their human partners in communing with the greater spirits and performing amazing deeds. They also acted as observers to insure that no one in the community broke any taboos.
To fulfill their role, the inuas learned much spirit lore and walked the paths of the Upper World seeking wisdom from elder spirits. They are reputed to be among the wisest and most knowledgeable of all Nunnehi, and have as their affinity the Realm of Fae because they are so concerned with things not of this world.
Most inuas prefer to take the shapes of animals when interacting with shaman so that their true identities within the tribe will not be compromised. Most frequently, they assume the shapes of foxes, caribou, seals, ravens, walrus, and polar bears. They are always small versions of these magnificent animals so that they can easily enter a shaman's home or place of power.
Inuas most often assist shamans by using their power to imbue amulets with luck or a specific song of power. Rarely, they will take over the job of helping directly with their fae powers. Somewhat shy and unwilling to reveal themselves to the uninitiated, inuas prefer the indirect method assisting a shaman. They are more comfortable in their role as go-betweens than as people of power in their own right. Inuas believe they are responsible for guiding the Inuit and Aleuts, and watch over them to see that they do not offend the Creator-spirits.
Appearance
Edit
Inuas look much like regular members of their human tribes. Broad-faced and black-haired, most still follow the custom of using labrets (plugs of ivory, bone or other hard materials inserted through the skin beneath the lips so as to form a chin decoration), making them the "pierced ones" among the Nunnehi. They wear clothing like that of their tribe. In their preferred spirit-advisor form, each inua takes on the shape of an animal important to the welfare of the tribe.
Seemings
Edit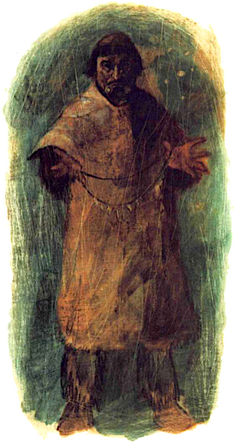 Lifestyles
Edit
Inuas live in communities of a few related extended families. They consider themselves caretakers of those in their village.
Birthrights & Frailty
Edit
Birthrights
Edit
Views of Others
Edit
References
Edit
CTD. Changeling Players Guide, pp. 140-141.
Community content is available under
CC-BY-SA
unless otherwise noted.