A Glade is a naturally occurring wellspring of Glamour
Overview
Edit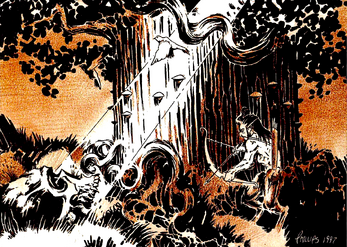 While a Freehold is a constructed font of Glamour, a Glade is a naturally occurring phenomenon. Some freeholds are constructed within Glades but not all Glades are Freeholds. These sylvan retreats are perfect for contemplation and replenishment of Glamour. They are dreamed into existence and found only in the most hidden parts of the world. Such sites are longed for my mortals and when found by artists or explorers or even religious sects, they are cherished like no other places on earth; their boundaries fiercely protected.
The Sacred Stone
Edit
Not necessarily small and not even necessarily forests, these special places can be grassy hills, open fields, orchards, mountain meadows, or hidden coves and beaches. Whatever they are, they all have a Sacred Stone from which they derive their magic. Somewhat like Balefire, the sacred stone is the heart of the Glade and its repository of Glamour. As they are not owned, they bestow their Glamour on the first person who dreams in their confines for the night. The stone is not always the most obvious feature of the Glade. Large, obvious items attract attention and are more easily stolen, which would destroy the Glade as surely as snuffing out the Balefire of a Freehold. Often the sacred stone is nestled someplace, covered by roots and moss, waiting to give their Glamour to the fortunate.
References
Edit
Community content is available under
CC-BY-SA
unless otherwise noted.