Flora Sinclair is a Seelie Boggan Wilder and Duchess of the Tuath of Dew in Caledonia.
Overview
Edit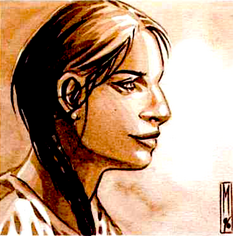 As long as she can remember, Flora was loved flowers. As child she grew tulips in window boxes at her family's Edinburgh flat. When she got older she took as many courses in horticulture and botany as the state school curriculum permitted. Finally, she was able to get a loan and open her own florist shop and treehouse. Here she nurtures Dutch tulips, Japanese irises, and Hawaiian orchids with the help of two large chimerical ladybugs that keep pests away. Along the way she also picked up an interest in continental philosophy. A recent addition to her shoppe is a salon. In the evenings, this is the premiere place for closet intellectuals who wish to debate the finer points of high thought.
Some of Flora's most devoted patrons are members of Clan Toreador. She and the Kindred are mutually respectful of each other and, truth be told, she enjoys their company. Discussing the finer points of Descartes is much more fascinating when one of your guests met him.
Personal
Edit
Flora loves creating beauty with her flowers, happily taking care of the needs of nobles and commoners alike. She is also an incredibly intelligent woman and the nightly repartees in the salon charge her with energy. She is pleased that she can entertain the Toreador because they are an intellectual commodity, even if they are dead.
Pleasantly plump and just about five-and-a-half-feet tall, Flora usually wears a plain skirt, twin-set, and apron while in her shop. Her mortal seeming has green eyes and light brown hair, usually worn in a ponytail. When dressing for court she gets quite formal in a sweeping gown of green satin embroidered with lilies and thistles. Her fae mien is a little shorter and more stout.
References
Edit
CTD. Isle of the Mighty, p. 120.
Community content is available under
CC-BY-SA
unless otherwise noted.