Fitz McArthur is a Nocker Grump printer and bookbinder, presumably Seelie, in the Kingdom of Pacifica.
Overview
Edit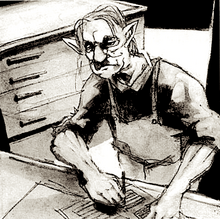 Just north of the Duchy of Goldengate, Fitz runs his small publishing empire (well... cottage industry). The old nocker is unequaled in his skill at bookbinding and printing; he is responsible for publishing the chimerical travel guides of Kalana Tomas and is in heavy demand for printing invitations and announcements for the fae across Concordia. His materials are the finest and he has an artist's eye for beauty and detail. Never mind the occasional misspellings that creep into his text because when his unique lavender paper blossoms into a full grown plant after watering, you won't notice the misspellings.
He has several apprentices, a bookkeeper/house manager, and several chimera at his small freehold. He's grumpy and bad-tempered but perhaps less-so than many nockers.
At present he is looking for someone to become his assistant master craftsman; perhaps chosen from among the apprentices or some unknown talent. He values originality and ingenuity above all else and if someone can show him a unique process, he'll be impressed.
Making an appointment to come in is always wise.
References
Edit
Community content is available under
CC-BY-SA
unless otherwise noted.