Arcane: League of Legends - The Loop
Play Sound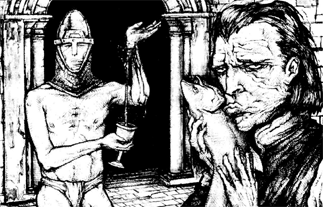 Fishmalk is a term used to refer to a stereotypically wacky Malkavian, the type who hits someone in the face with a fish and runs away hooting. Since Malkavians are all insane, the clan tends to attract a type of player who wants to be wacky or otherwise "chaotic neutral". The specific origin of the term has been attributed to an illustration in the Vampire: The Dark Ages Rulebook, which featured a "knight in his undies bleeding into a goblet while some guy fondled a dead fish."[1]
Two other common creation stories involve:
Malkavians that believe themselves to be fish
The phrase "If you don't put down that fish, Malk..." (say it out loud if you don't get it)
An arguably loving homage to them appears in Act 6 of SOI's Gehenna: The Musical.  One final reference can be found in the descriptive quote for Dominate Malkavians in Vampire: The Masquerade 20th Anniversary Edition, where the vampire states that they will not "flip out and start hitting people with fish".
"Fishmalk" can be seen as a sort of insult to a player's ability to roleplay, as it is quite pointlessly silly and not ideally suited for the World of Darkness.