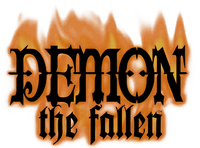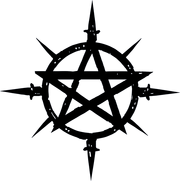 Demon: The Fallen is a role-playing game and a fictional setting from the World of Darkness line by White Wolf Game Studio. The player characters in the game are demons; fallen angels who were cast out of Heaven after siding with Lucifer in a thousand year war with God. The game line was intentionally set up with a limited number of books to be published.
Concept
In Demon: The Fallen, players assume the role of one of the rebel angels who defied their Creator for love of humanity and for their rebellion were cast into the Abyss, a prison hidden deep beneath the lands of the dead. Over the millennia, the angels have been twisted by their suffering, manifest in the form of their Torment.
As the Sixth Great Maelstrom rages across the kingdoms of the dead, cracks have appeared in the walls of the Abyss, cracks small enough to allow the smallest and weakest of the Fallen to escape. Fighting both the force of the storm and the pull of the Abyss, they have made their way back to the material realm.
The only way they can remain there, however, is by taking a host - preferably a mortal whose soul was weakened enough to allow the Fallen to gain a foothold and protect it from the ravages of Torment.
The process of possession exposes the Fallen to the mortal's memories. In the majority of cases, this has no effect. A minority of Fallen, however, discover a deep-seated streak of humanity in their hosts, be it love, courage, ambition, curiosity, or even rage - something strong enough to shock them out of their Torment, to remind them of the angel they once were, even if only for a moment. These human memories and emotions act as a bulwark against Torment, shutting out the memories of the Abyss, restoring the Fallen to some semblance of sanity.
The player character starts out as one of this minority, given a second chance by the memories of their mortal host. What they will make of it, however, is another story.
Houses
The seven Houses of the Fallen, the Sebettu, were created by God in the first days of Creation. It is impossible for a Fallen to change their House; it is, in a very real sense, the core of their beings, an essential part of who they are.
Factions
Upon their escape from the Abyss, the Fallen divided their society into five Factions based on their outlook on humanity, God, and themselves. Each Faction is composed of like-minded demons who, although from different Houses, share similar goals.
Demons and Mortals
Demons relate to mortals in two special ways: they reap Faith from mortals in order to gain power, and they can engage in pacts with mortals, creating thralls. Earthbound use a variation on the latter technique to create particularly warped individuals, and also require constant worship by their mortal followers.
Powers
Demons have a number of innate powers that are rather low-key but constantly "on". In addition to these, they can manifest their Apocalyptic Forms, the remnants of their true angelic selves, and use their Lore of Creation to create a variety of effects. All demonic powers require Faith to function - if a demon runs out of it, he becomes a mere mortal with strange memories until he regains some of it.
One other important characteristic of the Fallen is their immortality. Though their host bodies can be destroyed and their spirit forms sent back to hell, they don't die; they will only weaken and become increasingly consumed by pain with each "death". The only way a Fallen can actually die is if their soul is consumed by another Fallen.
Antagonists
The Fallen face two main groups of antagonists: mortal demon hunters and Earthbound. The lords of the Fallen comprise a third group, but one that won't be important early in the game. Vampires, hunters, and mages are the three supernatural factions most likely to cross swords with the Fallen at one time or another.
Demon hunters may hunt the Fallen for one of two reasons: either to banish them back to the Abyss, or to force them to give up their secrets and their power.
Earthbound are demons that were conjured up from the Abyss and given inanimate reliquaries instead of host bodies to reside in, mostly because these Fallen were too powerful for mere flesh. However, without a human conscience to guide them, these Fallen devolved into monstrosities unlike even the most debased Fallen, and now follow insane and alien agendas.
Themes
Apart from fighting their more monstrous fellow Sebettu, a number of other themes lend themselves to the Demon setting:
Recovering Old Artifacts and Lore: These objects may either be dangerous and wreaking havoc on Creation, or still hidden and much sought after.
Summoning High-Ranking Fallen: Fallen of the player characters' status were sent out to pave the way for the return of their masters.
Control: Fallen will probably try to establish a power base without attracting too much attention. Power, however, always draws attention.
Redemption Through Good Deeds: This may be a goal for any faction except Raveners - how to repair Creation. However, each of the factions would go about this in a completely different way.