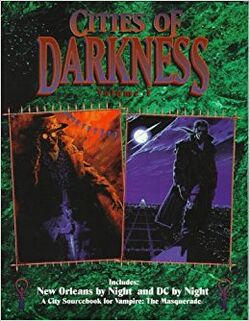 New Orleans by Night Credits
Written By
Patricia Ann Roshell
Additional Characters
Kara Chappell
Ms. Roshell's Technical Advisor
Joseph Smith
Developed By
Andrew Greenberg
Edited By
Robert Hatch
Art Director
Richard Thomas
Art
Joshua Gabriel Timbrook, Drew Tucker, Lawrence Schnelli, E. Allen Smith, Tom Berg
Front Cover
Doug Alexander Gregory
Back Cover and Logo
Lawrence Schnelli
Layout and Typesetting
Aileen E. Miles
Special Thanks To:
Author's Dedication


A great many people assisted me in planning and writing this book. Rather than thanking each of you individually (and risking the inadvertent omission of someone's name), I should instead like to take the opportunity and the space here to say, "Thank you." Your ideas, suggestions and support were more appreciated than I probably let you know at the time. I hope this makes up for it. Also, special thanks to the Factory Squad for playtesting New Orleans by Night.
D.C. by Night Credits
Written by:
Harry L. Heckel IV
Additional Material by:
Heather Curatola, Alan Fisher, Charles Beegly, Amelia G.
Edited by:
Laura Perkinson
Developed by:
Andrew Greenberg
Art Director:
Richard Thomas
Layout & Typesetting:
Aileen E. Miles
Art:
Thomas Berg, Jason Felix, Nick Ruskin, Joshua Gabriel Timbrook
Front Cover Art:
William O'Connor
Cover and Logo Design:
Aileen E. Miles
Special Thanks To:
Cities of Darkness Volume 1 is a collected sourcebook for Vampire: The Masquerade.
From the White Wolf Catalog:
Urban Legends...

City life crushes out spirit. Traffic. Crime. Corruption. Inhumanity. Rumors and legends abound as we strive to cope each horror and save what's left of our identities, before we become the monsters that stalk the urban sprawl. But for some it's too late. The legends are true. The monsters are real. They are among us.
Come To Unlife

Cities of Darkness Volume 1 combines the early and hard-to-find Vampire supplements D.C. by Night and New Orleans by Night. What goes on in the nation's capitol and America's party town after dark, when the undead come out? Perhaps much the same things. It's all one big celebration. BYOB (bring your own blood).
Cities of Darkness Vol 1 Includes:

The chance to get these out-of-print Vampire supplements, combined under one new cover.
All the politics, machinations, double-dealing and intrigue of Kindred politicians in the nation's capital
An invitation to all the parties, street dances, carnivals and bloodlettings of the Big Easy