Chronos is an Art of the Kithain.
Overview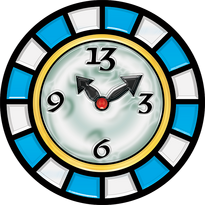 Chronos is the Art of temporal manipulation. Unlike the methods of altering time known to other supernaturals, Chronos is fairly indirect, and almost never goes in linear order - instead, it is an Art of being disjunct from the proper order of time, causing its practitioners to be difficult to affect with Time magic, and lose sight of how time should operate. Chronos is the exclusive Art of the Sidhe, much more so than any other noble Art; not only is it extremely difficult for commoners to learn it, they have a greater difficulty forming its cantrips.
Cantrips
References
CTD: Nobles: The Shining Host, pp. 78-80.