Chief Greyhawk is a Seelie Sidhe of House Gwydion and ruler of the Kingdom of the Burning Sun.
Overview
Edit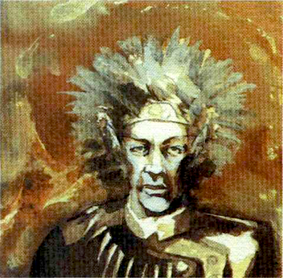 Chief Greyhawk (formerly King Videll) is something of an aberration by sidhe standards. Although born to one of the finest families in House Gwydion, he draws criticism from many changelings for "going native." Greyhawk is one of the very few Kithain who enjoys friendship with the Nunnehi. These indigenous fae fill some of the most important positions in his court. As a result of this alliance, nunnehi attacks in his kingdom are virtually unknown. Chief Greyhawk and Duke Topaz are often at odds because nunnehi rebels in the Kingdom of the Feathered Snake use Greyhawk's lands as a staging area for their raids. The border between their kingdoms is one of the major hotspots in Concordia. "Sun and Serpent" is now a part of the changeling lexicon, a variation of "between a rock and a hard place." Chief Greyhawk is a just ruler, but is known to have a strong temper.
References
Edit
CTD. Nobles: The Shining Host, p. 96.
Community content is available under
CC-BY-SA
unless otherwise noted.